In an increasingly digitised world, businesses are challenged to adapt to the preferences and needs of today's consumers. Digital onboarding, also known as remote customer onboarding is the process that verifies the identity of a user remotely and securely in a digital environment. It has become an effective solution to provide customers with a seamless virtual onboarding experience.
The importance of AI for onboarding
Digital onboarding guides customers remotely through their first interaction with a product or service using advanced technologies such as artificial intelligence (AI). AI has revolutionised how companies connect with customers by delivering a customised and efficient experience. 
One of the key advantages of digital onboarding is its ability to adapt to the preferences and behaviour of today's digital consumers. Today's customers value immediacy in their brand interactions. Digital onboarding allows them to access products and services quickly, avoiding needing to go to offices physically.
Furthermore, AI technology plays a crucial role in digital onboarding by enabling companies to automate processes, improve operational efficiency and reduce human error.
In this article, we will explore what digital onboarding is, how the digital onboarding process works, the different types, the KYC onboarding for banks, the digital onboarding software benefits, and everything you need to know to implement an effective digital onboarding process.
What is digital onboarding? Onboarding meaning
Digital onboarding is the process that enables companies to incorporate their customers at the beginning of their relationship in digital environments remotely so that they can access their products or services at any time and place. All this through a secure and straightforward technological process that verifies the customer's identity.
Onboarding can also be defined as the vital process in which advanced technologies are used to ensure the authenticity and security of users in a remote platform registration. 
To ensure that the user experience is the best possible and the potential customer does not abandon the registration process, the technology used must provide the same level of confidence as that offered by face-to-face incorporation in a branch office and, at the same time, it must offer a fluid and automated process.
The onboarding process is also known as Know Your Customer (KYC) or KYC onboarding.
Download the KYG guide and know the due diligence measures
How does a Digital Onboarding process work?
The customer onboarding process generally consists of two parts: to make it a fully robust and effective method:
The first step is analysing an identity document issued by a government entity (ID card, driving licence or passport). This process is also known as document verification. It consists of capturing the document's front and/or back by extracting the information using OCR or NFC technology. It also incorporates an anti-fraud module that detects fraud or possible modifications to this document type.

The second step registers unique features inherent to each individual that differentiate them from the rest using

biometrics.

This stage is known as facial verification, and it takes a selfie of the person carrying out the process to establish a correlation index between the image of the document and a photo taken. Facial verification also includes an anti-fraud module of presentation attack detection techniques. The anti-fraud measures known as active or passive liveness detection ensure that the process is secure and that no fraud attempt is being made.
AML checks
There is also the possibility to check the extracted identity against Anti Money Laundering checklists or AML checks to verify that the person who is performing the registration or digital verification process is not involved in fraudulent activities such as:
Identity fraud
Terrorist financing
Sanctioned person
Politically exposed person
In Spain, the verification of a customer's identity must be carried out through secure remote identification processes authorised by Sepblac (the Financial Intelligence Unit in Spain and supervisor for the prevention of money laundering).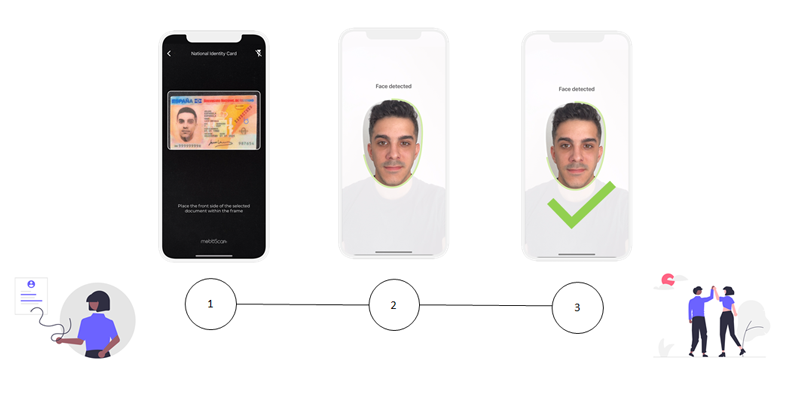 This type of process represents a change of paradigm, removing the dependence on physical offices while enabling digital channels for new customer onboarding.

This type of process represents a change of paradigm, removing the dependence on physical offices while enabling digital channels for new customer onboarding.
Customer onboarding types
Companies can use different onboarding approaches when onboarding new customers:
Face-to-face onboarding in offices: It involves the customer physically coming to the company's office or shop to complete the onboarding process traditionally. In this scenario, employees interact directly with the customer and verify their identity by physically presenting and registering documents with the opportunity to initiate a close relationship from the beginning.
Digital onboarding in offices: Digitalised face-to-face office onboarding can be particularly useful for purchasing complex products or services requiring a detailed explanation. In this sense, the customer must go to a branch office to carry out the verification process digitally via the sales agent's tablet or mobile phone.
Fully digital onboarding: It is an online approach that relies on digital technologies and platforms. The entire customer onboarding process is online. This type of onboarding is ideal for companies that operate globally, eliminating geographical barriers.
Types of technologies for digital onboarding
Depending on the type of technology, the security level and the regulations applicable to each process and sector, we can define 3 different types of digital onboarding:
Identity verification through facial matching between ID document and selfie.

System that allows us to verify that the person presenting an identity document is who they say they are, by comparing the photo of the person on the ID document with a selfie.
If the similarity of the two photos is above the threshold to verify that the person is who they say they are, the verification of the customer's identity will be completed.
In order to verify that there is a real person in front of the camera and not a video or photo, liveness detection measures are carried out, which adds an extra layer of security.
Identity verification through video conferencing
Both the identity document capture process and customer verification are carried out through a videoconference, where a qualified agent from the company guides the new customer through the onboarding process.
Unattended video identity verification
It also allows the customer to be identified remotely, but this time, the entire onboarding process is recorded on video.
Once the registration process has been carried out by the customer, the recorded video together with all the validations carried out can be reviewed by the agent to approve the registration.
Regulatory considerations for customer identity verification in European digital onboarding
In Europe, the regulatory framework for verifying the identity of customers in a digital onboarding process primarily revolves around the General Data Protection Regulation (GDPR) and the Anti-Money Laundering (AML) directives. Here are some key regulations to consider:
General Data Protection Regulation (GDPR)
GDPR sets the standards for data protection and privacy in the European Union (EU) and the European Economic Area (EEA). It requires organizations to obtain the explicit consent of individuals before collecting and processing their personal data. When implementing a digital onboarding process, businesses must ensure they comply with the principles of lawfulness, fairness, and transparency in processing personal data.
Anti-Money Laundering Directives (AMLD)
 The AMLD aims to prevent money laundering, terrorist financing, and other financial crimes. The most recent directive is the Fifth Anti-Money Laundering Directive (AMLD5), which was implemented in January 2020. AMLD5 requires regulated entities, including financial institutions and virtual asset service providers, to perform customer due diligence (CDD) procedures, which include verifying the identity of customers. It also introduces requirements for electronic identification and verification methods.
eIDAS Regulation
 The eIDAS (Electronic Identification, Authentication, and Trust Services) Regulation provides a framework for electronic identification and trust services within the EU. It establishes rules for electronic identification methods and sets standards for the mutual recognition of electronic identification across member states. Digital onboarding processes can leverage eIDAS-compliant electronic identification methods for verifying customer identities.
PSD2
 The Revised Payment Services Directive (PSD2) regulates payment services within the EU. It requires payment service providers to apply strong customer authentication (SCA) for certain transactions. SCA typically involves verifying the customer's identity using two or more independent factors, such as something the customer knows (e.g., password), something the customer possesses (e.g., mobile device), or something the customer is (e.g., biometric data).
National Regulations
While the above regulations provide a framework at the EU level, individual EU member states may have additional or more specific requirements for customer identity verification. Businesses must be aware of and comply with national regulations specific to the countries they operate in. In Spain, SEPBLAC (Financial Intelligence Unit) is the supervisor for preventing money laundering and terrorist financing.

It is important to note that regulations and directives are subject to updates and changes, so it is crucial to stay updated with the latest legal requirements and consult with legal professionals or compliance experts to ensure compliance with the specific regulatory framework applicable to your business.
SEPBLAC regulations for customer identification by video-conferencing and video-identification
As mentioned, there is identity verification by video-conferencing and video-identification, also called the unattended process. These types of verification are mainly used in the banking industry to comply with SEPBLAC regulations in Spain or with the National Commission in Mexico. 
Regarding Spanish SEPBLAC regulation, video-conferencing was a mandatory requirement for remote customer identification by financial institutions. During the videoconference, the customer must visibly display the document's front and back. Furthermore, the videoconference must be recorded and time-stamped.
This type of verification requires qualified agents who interact in real-time with the customer. For this reason, the law evolved in 2017, allowing video identification as a valid alternative to video conferencing. Customer identification through video identification uses artificial intelligence to perform the registration process. The process is unattended and recorded on video for asynchronous review by an agent. There is no need for customer interaction, thus eliminating friction in bank customer registration processes.
Digital onboarding as a competitive advantage for banking and other industries
Digital onboarding emerged as a paradigm shift in the financial industry from face-to-face processes where it was mandatory to travel to a branch so that an agent could verify the customer's identity (for different processes such as account openings) to a 100% digital process.
There is severe competence in today's banking industry, and customers have high expectations when onboarding financial services. That is why implementing digital onboarding has become a priority for financial institutions. Some of the advantages of digitising the bank onboarding process are: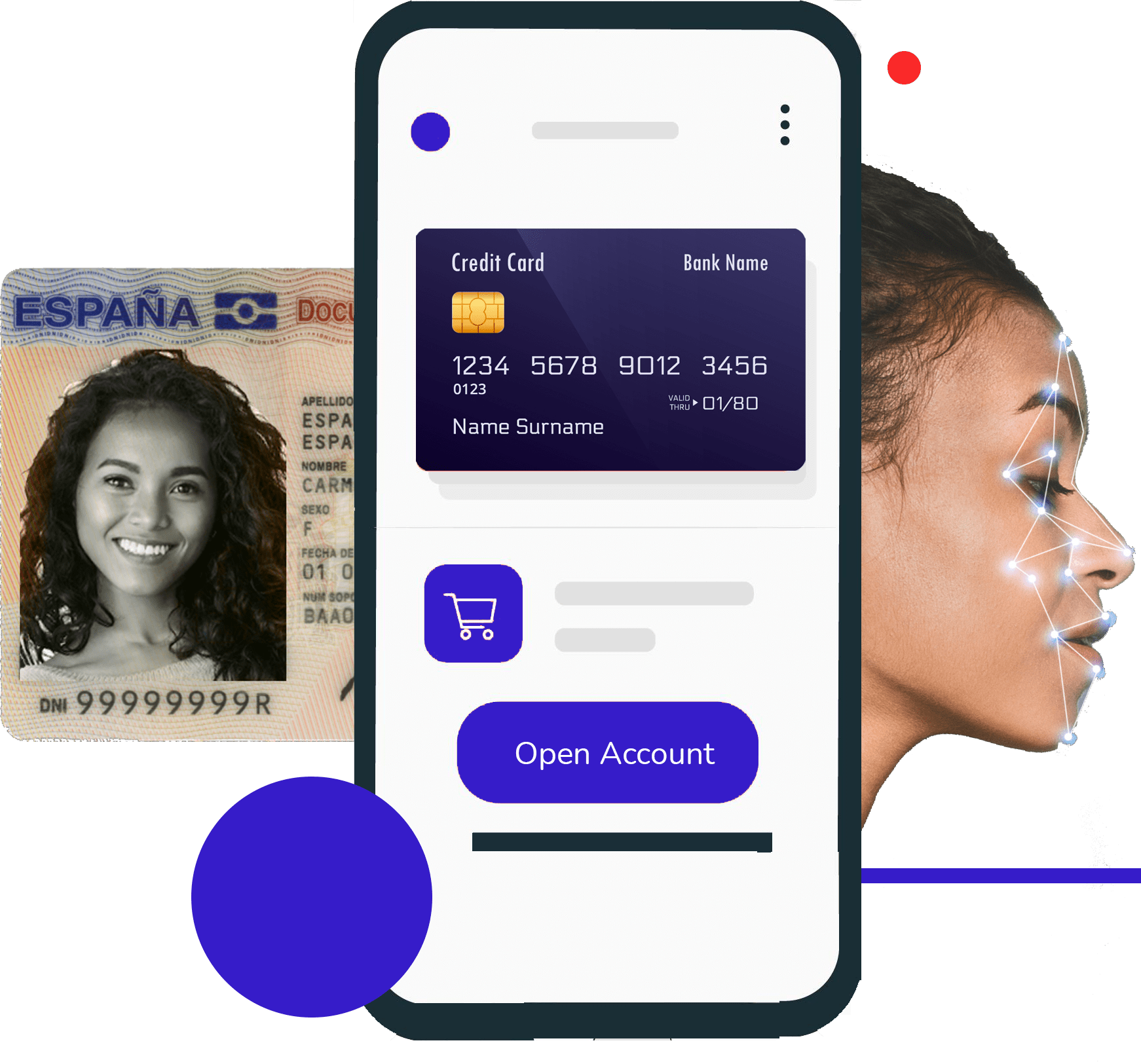 Streamlining the process:

Customers seek a fast and smooth onboarding process. Simplifying the workflow using advanced technology can make a difference, enabling the collection of basic information through an auto-fillable form and automated, digitised identity verification.

Customer-centric approach:

Each customer is unique and valuable, so offering a customised experience with a user-friendly interface is essential.

Use of innovative technology:

Adopting innovative technologies can make a difference in digital onboarding. These advanced technologies not only provide a modern experience but also help build customer trust by protecting their data and information. Liveness detection facial recognition enhances the security of the process.
Other advantages
Integration with the customer's platform:

Our MobbScan onboarding solution is designed to be integrated into the customer's web or native platform so that the customer never feels like they leave the platform to complete the process. 

Measurement and continuous improvement: Digital onboarding implies constantly improving the processes. Metrics and data analysis allow the evaluation of important KPIs, such as the number of users who complete the process and the abandonment rate.
In the beginning, digital onboarding processes were closely linked to companies in the financial sector as well as technology-based companies willing to break with the status quo in more traditional sectors, such as fintech digital onboarding, proptechs or prop techs in real estate, and insurtechs or insuretechs for insurers.
Today, the use of these technologies is becoming standardised for industries of all types, since they offer a secure and efficient channel to onboard new customers.

If you want to discover more reasons to start using this technologies, take a look to our article: 6 reasons to improve your registration process through digital onboarding
Benefits of digitalising the Onboarding Process
The integration of Digital Onboarding processes brings many different benefits to the companies that rely on it:
Establishes a relationship of mutual trust between the two parties.
Develops financial inclusion tailored to the needs of each customer.
Mitigates the risk of identity fraud.
Prevents money laundering and financing of terrorism
As well as other digital onboarding benefits inherent to the business model:
It allows to scale the business model.
Opens a digital channel with full guarantees for business expansion.
Saves on costs and human resources.
Facilitates compliance with legislation.
Improves customer user experience.
Reduces customer churn rate in registration processes.
MobbScan: your partner for customer registration with document verification and biometrics
One of our primary goals is to help people to make transactions with the same trust as in person.
That is why we have developed MobbScan, a complete digital onboarding solution that enables remote customer registration to establish a trusted relationship between the company and its customers.
To do this, we develop cutting-edge technology to allow new customers to register remotely in a smooth process with robust anti-fraud controls.
Free free to contact us if you are interested in knowing more about our digital onboarding technology in order to verify the identity of your customers when onboarding.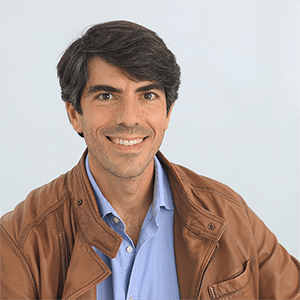 I am a Computer Engineer who loves Marketing, Communication and companies' internationalization, tasks I'm developing as CMO at Mobbeel. I am loads of things, some good, many bad… I'm perfectly imperfect.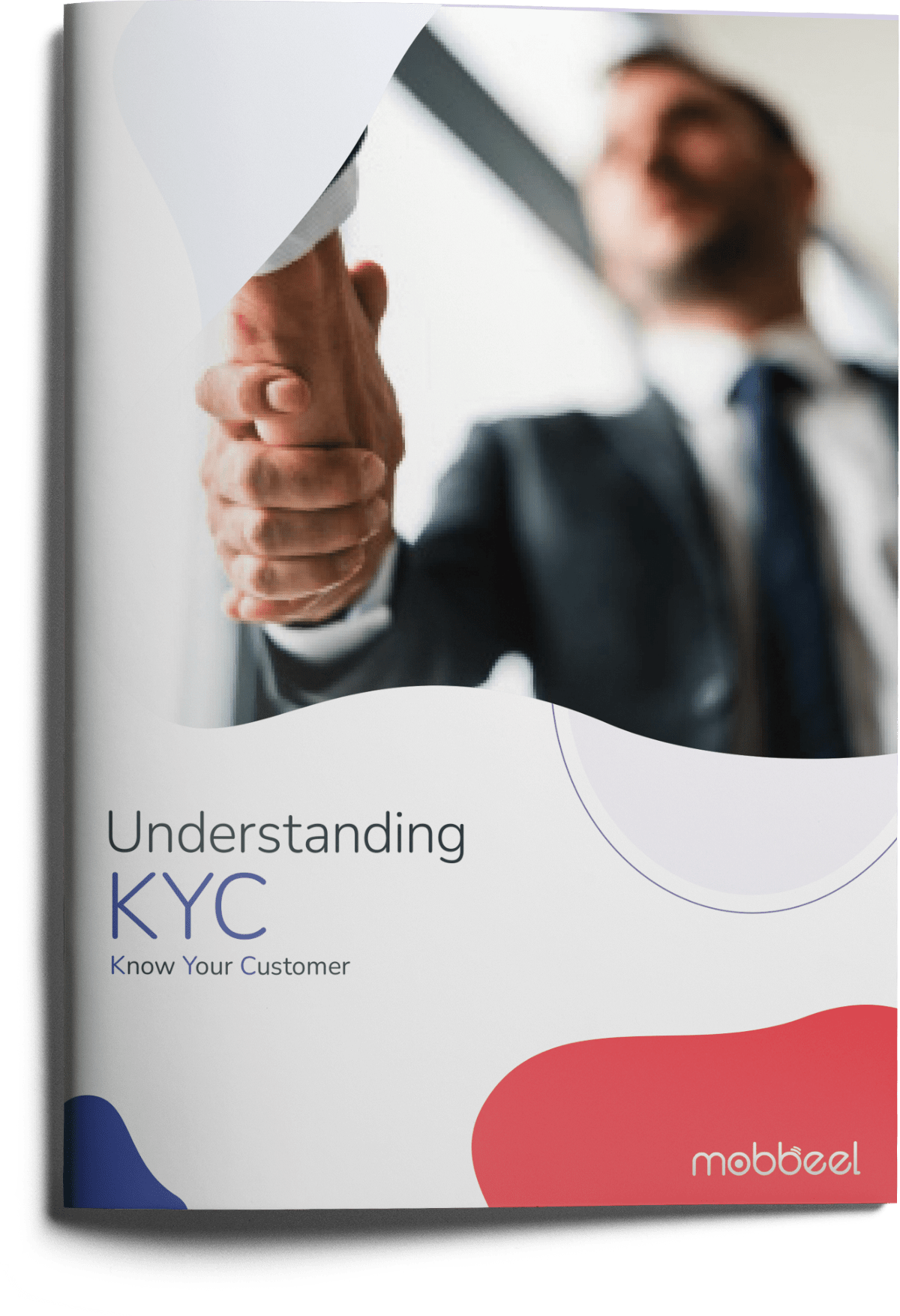 Download our KYC guide and discover how it affects you
Meet AML / KYC requirements and regulation.
Enhance user experience.
Reduce the dropout rate during onboarding.
Automate user verification.
Avoid documentary and identity fraud.