Digital onboarding is the process that allows companies to remotely incorporate their new customers into digital environments so that they can access their products or services at any time and place, through a secure and simple technological process, verifying the identity of that customer with the same confidence as in person.
To ensure that the user experience is the best possible and the potential customer does not abandon the registration process, the technology used must provide the same level of confidence as that offered by face-to-face incorporation in a branch office and, at the same time, it must offer a fluid and automated process
The digital onboarding process is also known as Know Your Customer (KYC). 
How does a Digital Onboarding process work?
It usually consists of two parts to make it a fully robust and effective process:
Analysis of an identity document issued by a government entity (ID card, driving licence or passport).
In addition to the capture process, there is also the recording of the unique characteristics inherent to each individual that differentiate them from the rest: biometrics.
There is also the possibility of cross-checking the identity against lists to verify that the person who is carrying out the registration/verification process has not been involved in fraudulent activities:
Identity fraud
Terrorist financing
Sanctioned person
Politically exposed person
In Spain, the verification of a customer's identity must be carried out through secure remote identification processes authorised by Sepblac (the Financial Intelligence Unit in Spain and supervisor for the prevention of money laundering).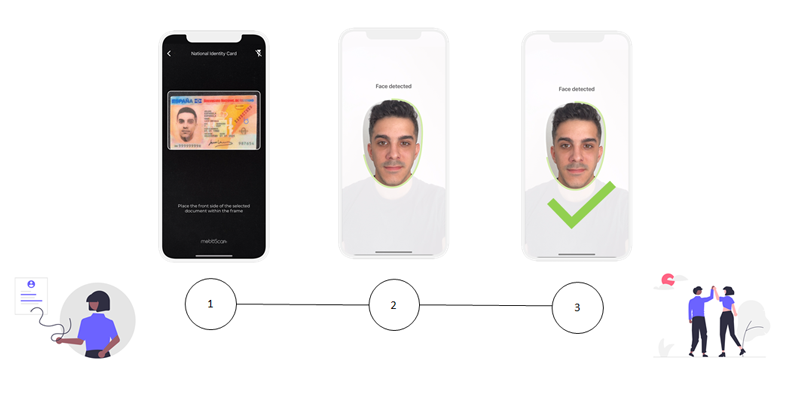 This type of process represents a change of paradigm, removing the dependence on physical offices while enabling digital channels for new customer onboarding.

This type of process represents a change of paradigm, removing the dependence on physical offices while enabling digital channels for new customer onboarding.
Digital Onboarding in the Financial Sector
Digital onboarding emerges as a paradigm shift in the financial sector from face-to-face processes where it was mandatory to go to a branch so that an agent could verify the customer's identity (for different processes such as account openings) to a 100% digital process.
In the beginning, digital onboarding processes were closely linked to companies in the financial sector (banks, insurers, fintech) as well as technology-based companies willing to break with the status quo in more traditional sectors, such as fintechs in the financial sector, proptechs in real estate, and insurtechs for insurers. 
Today, the use of these technologies is becoming standardised for industries of all types, since they offer a secure and efficient channel to onboard new customers.
Types of technologies for digital onboarding
Depending on the type of technology, the security level and the regulations applicable to each process and sector, we can define 3 different types of digital onboarding:
Identity verification through facial matching between ID document and selfie.

System that allows us to verify that the person presenting an identity document is who they say they are, by comparing the photo of the person on the ID document with a selfie.
If the similarity of the two photos is above the threshold to verify that the person is who they say they are, the verification of the customer's identity will be completed.
In order to verify that there is a real person in front of the camera and not a video or photo, liveness detection measures are carried out, which adds an extra layer of security.
Identity verification through video conferencing
Both the identity document capture process and customer verification are carried out through a videoconference, where a qualified agent from the company guides the new customer through the onboarding process.
Unattended video identity verification
It also allows the customer to be identified remotely, but this time, the entire onboarding process is recorded on video.
Once the registration process has been carried out by the customer, the recorded video together with all the validations carried out can be reviewed by the agent to approve the registration.
Benefits of digitalising the Onboarding Process

The integration of Digital Onboarding processes brings many different benefits to the companies that rely on it:
Establishes a relationship of mutual trust between the two parties.
Develops financial inclusion tailored to the needs of each customer.
Mitigates the risk of identity fraud.
Prevents money laundering and financing of terrorism
As well as other benefits inherent to the business model::
It allows to scale the business model.
Opens a digital channel with full guarantees for business expansion.
Saves on costs and human resources.
Facilitates compliance with legislation.
Improves customer user experience.
Reduces customer churn rate in registration processes.

If you want to discover more reasons to start using this technologies, take a look to our article: 6 reasons to improve your registration process through digital onboarding
MobbScan: your greatest ally for digital onboarding processes
One of our main objectives is to enable people to carry out digital transactions with the same confidence as in person, 
That is why we have developed MobbScan, a complete digital onboarding solution, which allows a relationship of trust between the company and its customers.
To achieve this, we rely on cutting-edge technology that thinks of the company by providing the most powerful anti-fraud controls and of the customer, allowing a seamless, fast and intuitive onboarding process
If you are interested in learning more about what our digital onboarding technology can do to verify the online identity of your customers during their registration process, don't hesitate to contact us!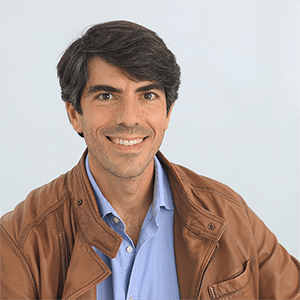 I am a Computer Engineer who loves Marketing, Communication and companies' internationalization, tasks I'm developing as CMO at Mobbeel. I am loads of things, some good, many bad… I'm perfectly imperfect.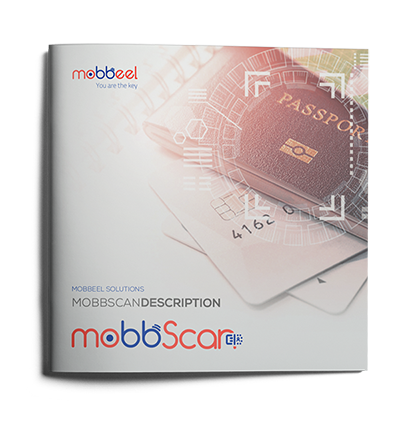 Download Mobbscan's Brochure for Digital Onboarding
Meet AML / KYC requirements and regulation.

Enhance user experience.

Reduce the dropout rate during onboarding.

Automate user verification.

Avoid documental and identity fraud.
Download Mobbscan's brochure for digital onboarding